Company: Tesla
Founded: 2003
Founders: Martin Eberhard and Marc Tarpenning
Description: Company focused on electric cars, solar panels and clean energy storage.
---
This playbook focuses on marketing strategies and tactics used by Tesla.

The marketing playbook series is for founders who want to:

1. learn from real-life examples
2. discover which growth strategies fit which businesses and industries
3. find the 20% of strategies that return 80% of results
Social Proof Marketing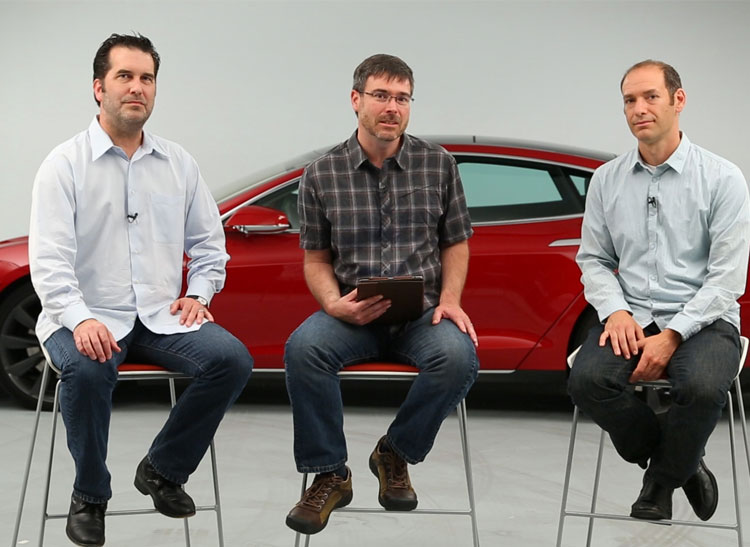 1. Consumer Reports Perfect Score
The Model S P85D was the first car to receive a perfect score from Consumer Reports. (Article)
2. NHTSA Perfect Safety Rating
The Model X was the first SUV to receive a perfect crash-test rating.(Article)
3. User-Generated Content
Tesla owners probably generate more content (and attention) than any other auto community. (Article)
Content Marketing
4. Open Source Patents
Tesla made waves in the press when they open sourced patents and announced the decision on their blog. (Post)
5. Secret Master Plan
Elon Musk's long-term plan for Tesla was announced through it's blog in 2006 and continues to be referenced. (Post)
6. Twitter
Elon Musk is one of the most active public CEOs on Twitter. Most of his time is spent replying to others. (Article)
7. Book
Elon Musk refused to cooperate at first but eventually sat down for interviews with the author. This book convinced me and many others of Tesla's potential. (Discussion)
Status Marketing
8. Trims
The auto industry has a history of offering different trim levels, this lays the groundwork for status marketing. Prospective owners may decide to upgrade to signal to others. (Page)
9. Charging for Black
Basic car colors, such as black and silver, become a status symbol whether owners intend to or not. (Article)
10. Founder Series
Tesla caters to our love of status with Founder Series. Each vehicle receives a production number, production is limited and Elon Musk signs each car. (Article)
11. Land then Expand – Luxury Edition
Some businesses must start small in order to become big. That means focus and exclusion. Facebook was only for Harvard students. Amazon was only for books. Tesla was only for luxury sports cars.
The general public couldn't afford Teslas before scale effects kicked in and lowered production costs. They sold status before turning toward the general public. (Article)
12. Not for Sale
Tesla played on our love of status with wheels that could not be purchased. Arachnid wheels could only be earned through the referral program. These wheels inspired an episode of the HBO show, Silicon Valley. (Video | Discussion)
Gamified Marketing
13. Secret Loot Box
Tesla used a Loot Box metaphor to gamify it's referral program. (Page)
14. Project Loveday Contest
Tesla ran a video contest for fan-generated Tesla commercials. (Page)
15. Digital Collectible Trophies
Elon Musk committed to adding a digital collectible game for Supercharger locations. I wouldn't normally put much weight on a verbal commitment but this was his same response to the person that suggested Project Loveday. (Tweet)
16. Race a Tesla Semi
By following the Tesla newsletter you could receive a chance to race a Tesla semi truck. (Article)
Tease Marketing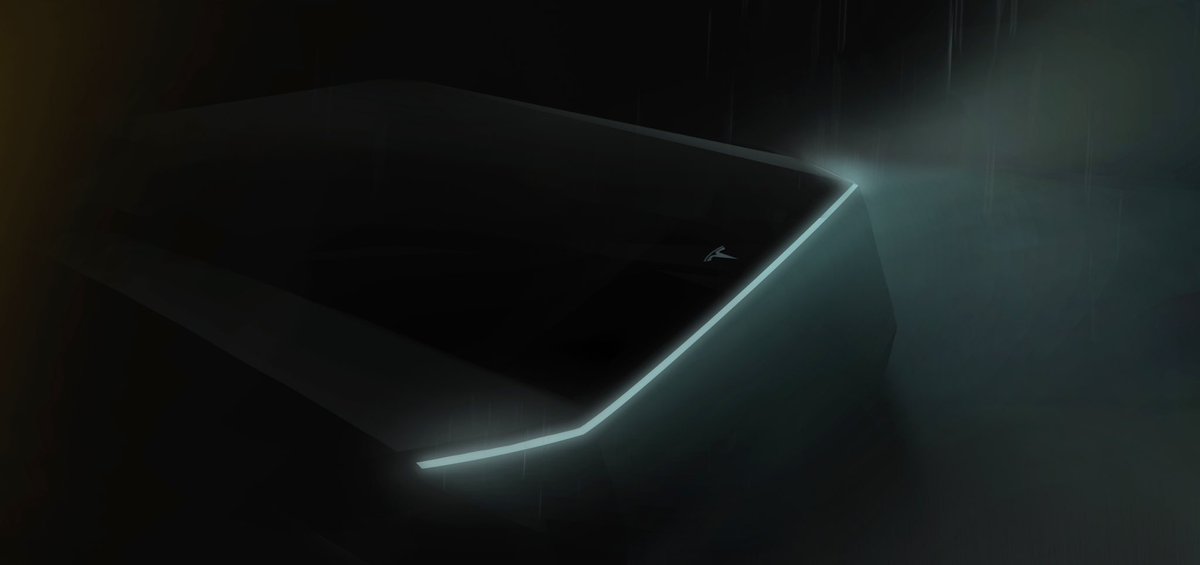 17. Twitter Tease
Elon Musk often teases followers with upcoming products, features and Easter eggs via Twitter. The image comes from Elon teasing a Tesla truck on Twitter. (Tweet)
18. Events
Tesla is great at managing suspense and press leading up to events. Perhaps they modeled themselves after Apple in this department. (Page)
19. Reservation Journey
Reserving a Tesla starts a journey of following feature and production updates. This builds suspense, giving owners something to look forward to and talk about. (Article)
Guarantee Marketing
20. Return Policy
Tesla vehicles come with a 7-day | 1,000 mile return policy. This makes the purchase decision easier by addressing buyer objections. (Page)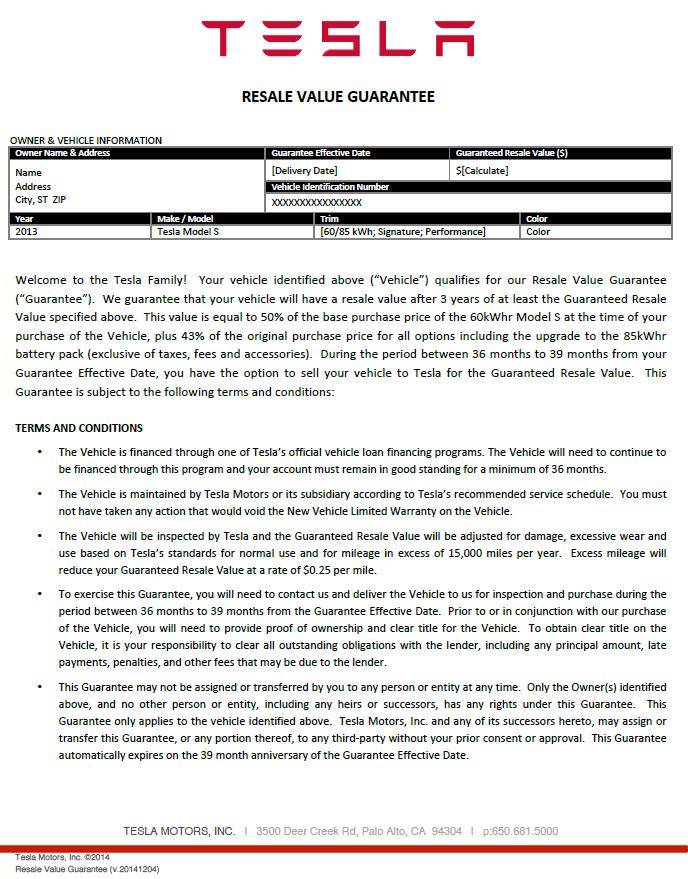 21. Resale Value Guarantee
This program was discontinued but served to remove friction from the buying process. (Article)
22. 8-Year Battery Warranty
Concerns specific to purchasing an electric vehicle are eased with a robust battery warranty. (Article)
Remarkable Marketing
23. Old School Drive-In
Elon generated lots of press when he tweeted about turning a Supercharger location into a drive-in. Some people even created independent mock-up designs.(Article)
24. Mini Supercharger
Tesla accessories such as the Mini Supercharger result in many conversations and videos online. (Video)
25. Tesla Arcade
Owners often post pictures and videos of games available in Tesla cars. Rolling out new games give journalists something new to write about. This is a good extensible marketing tactic. (Article)
26. Car Replacement
Tesla monitors social media to create moments such as these. When they noticed that Chris' car was scratched, they sent a 'replacement.' This generated even more buzz for the brand. (Tweet)
27. Bucket List
Tesla helped fulfill a bucket list item for a man near death by moving him up in the queue of people who reserved Teslas. (Tweet)
28. Drag Racing
There's a drag racing culture around pitting Teslas against much more expensive cars. Tesla vehicles tend to come out on top. (Video)
29. World's Fastest SUV
Being the first in any category can be enough to generate press for your brand. Having the world's fastest SUV is one of the many areas where Tesla stands out. (Article)
30. World's Quickest Production Car
When Tesla posted about the P100D being the world's quickest production car, lots of news outlets jumped on the story. (Page)
31. Longest-Range Electric Vehicle
Tesla recently posted about improvements to their preexisting record. (Page)
32. Ludicrous Mode
Ludicrous mode has spawned hundreds of reaction videos and free press for Tesla. (Video)
33. Plaid Mode
Plaid mode has also generated lots of discussion, reaction videos and press for Tesla. (Video)
34. Falcon Doors
Although Tesla has been plagued by ongoing problems with Falcon doors, people can't help but remark about them. (Video)
35. S3XY
Long-term ploys such as this hints at Tesla's commitment to stirring up conversation around the brand. (Tweet)
36. Tesla Tequila
Not many car companies would start a liquor brand. That didn't stop Elon. Teslaquila generated lots of press and conversations with people wondering how to get their hands on a bottle. (Article)
37. Big Remote Control Car
Features such as driving your car "from your phone remotely like a big RC car" received a lot of attention when they are announced. (Tweet)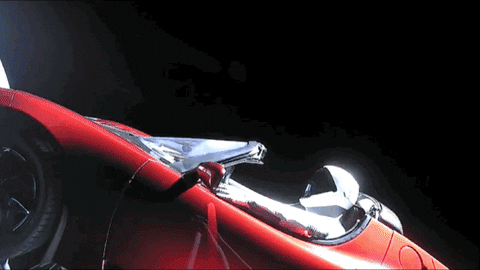 38. Roadster in Space
The SpaceX launch was remarkable enough. The event became more remarkable when it was announced that a Tesla roadster would also be launched into space. (Video)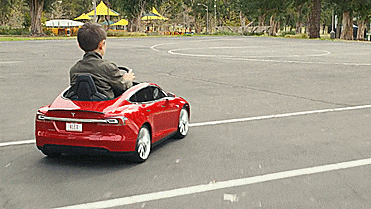 39. Toy Teslas
Toy Teslas are conversation starters and provide increased visibility for Tesla. (Page)
40. Bioweapon Defense Mode
True to form, some Tesla features are more about press value than practicality. Bioweapon defense mode gives journalists something to write about. (Article)
41. Rocket Thrusters
Although we've come to expect remarkable features from Tesla, they raised the bar by deciding to put rocket thrusters on a car. (Article)
Piggyback Marketing
42. Marques Brownlee
Elon went on a factory tour with and was interviewed by Marques. Elon was able to reach his 9 million subscribers. (Video)
43. Joe Rogan
Elon was interviewed by Joe Rogan and caused waves in the press when he took a hit of weed. Joe Rogan receives more than 1.5 billion listens yearly. (Video)
44. Project Loveday Contestants
Project Loveday contestants shared fan-made videos with followers on Youtube and Instagram. This allowed Tesla to piggyback off of their personal audiences. (Page)
45. Tim Urban
Elon reached out to Tim Urban to write about Tesla. He leveraged Tim's audience and his ability to explain things simply. Tim wrote a long-form post on Tesla along with other companies led by Elon. (Post)
Permission Marketing
46. Tesla Newsletter
Tesla allows people to opt-in for a newsletter to receive product updates. (Newsletter)
Presence Marketing
47. Supercharger Network
The presence of Tesla superchargers serve the same function as billboards. They both prime our brains and position the brand. (Page)
48. Rolling Billboards
We advertise for car companies when we drive around. The same is true for clothing companies with visible labels and Apple with AirPods. (Discussion)
49. Apparel
An advantage of a strong brand is that it creates demand for other items such as apparel. People are paying Tesla to advertise for them. (Shop)
50. Cameos
Elon has appeared in several movies and shows. His appearances trigger our brains to think of the companies he leads. (Video)
Affiliate Marketing
51. Referral Program
Tesla's referral has been discontinued, reintroduced and transformed over the years. It was once possible to earn a Tesla for referring customers, now you can earn a chance to receive a Tesla. (Article | Guide)
Niche Marketing
52. Luxury Electric Vehicles
Tesla aimed to dominate a niche before expanding. This is a common strategy used by others such as Facebook (Harvard students) and Amazon (books).
Tesla built momentum in the luxury electric vehicle niche before releasing mass-market vehicles such as the Model 3. (Article)
53. Strong Brand
A sign of Tesla's brand strength are the independently organized communities, podcasts and blogs that exist solely for Tesla fans. (Community)
Scarcity Marketing
54. Production Backlogs
At several points in Tesla's history, Tesla vehicles were more coveted than higher-priced luxury vehicles due to the limited availability. (Article)
55. Founder Series
Most Tesla products offer a 'Founder Series' version. The supply of Founder Series items are artificially limited.
Only 1,000 Founder Series Roadsters will be made. Each is signed by Elon Musk and buyers must prepay $250,000 years before delivery. (Discussion)
Ease Marketing
56. One Minute to Buy
Tesla reduced the friction (and time) involved in buying a Model 3 down to 1 minute. (Tweet)
57. Tesla Financing
Tesla brought vehicle financing under one roof to simplify purchasing. (Page)
Urgency Marketing
58. Tax Credits
Tax credits are usually phased out after a certain number of vehicles are sold. This works in Tesla's favor, giving buyers a reason to purchase before the tax credits are phased out. (Article)
59. Ending Referral Program
Elon urged referral partners to recommend buyers before the referral program was ended. It was resumed three months later. (Article)
Flywheel Marketing
60. Roadster in Space
Tesla used the momentum behind a SpaceX launch to create press for Tesla. They added a Roadster to the payload and we ate the story up. (Article)
61. Roadster SpaceX Package
Elon is capitalizing on the SpaceX brand by adding a SpaceX package to the Tesla Roadster. (Article)
62. Boring Company Tunnel
Tesla vehicles are at the forefront of news stories covering another one of Elon's ventures, The Boring Company. (Video)
63. Solar Panels
Tesla has been able to lower customer acquisition costs for it's solar business by selling to Tesla vehicle owners. These potential customers are proven early adopters with a favorable view of the Tesla brand. (Page)
64. Robotaxi
Tesla may generate more vehicle demand and brand awareness with a ride-sharing service.
Tesla vehicles have the hardware to make this possible. Elon highlighted the financial reasons that owners may have to participate. (Article)
65. SpaceX Prize for Tesla Referrals
Tesla integrated SpaceX rewards into their referral program. (Video)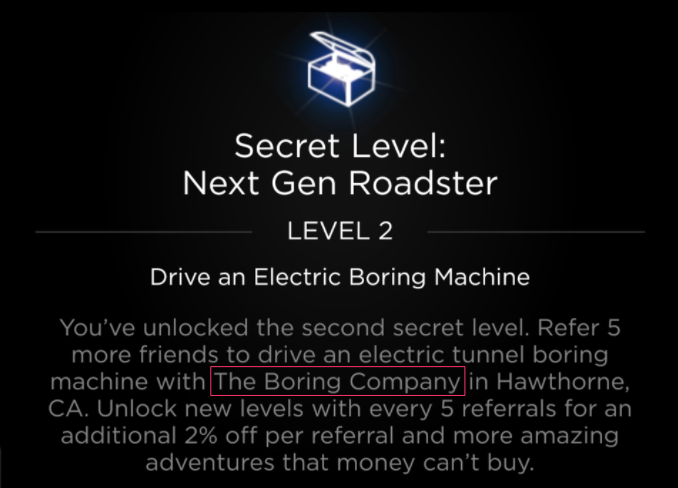 66. Drive a Boring Machine
Tesla offered a one-of-a-kind prize to referral partners. The chance to drive a boring machine from The Boring Company. (Article)
Thanks for reading!
Which company you would like to see next?
Let me know — @DruRly.