Company: Basecamp (Formerly 37signals)
Founded: 1999
Founders: Jason Fried, David Heinemeier Hansson
Description: Project management tool
---
This playbook focuses on marketing strategies and tactics used by Basecamp.

The marketing playbook series is for founders who want to:

1. learn from real-life examples
2. discover which growth strategies fit which businesses and industries
3. find the 20% of strategies that return 80% of results
Content Marketing
1. Open Source
Basecamp was behind Ruby on Rails which changed software development forever. The framework became synonymous with the company and co-founder, DHH. Basecamp was the first ever Ruby on Rails app. (Open Source)
2. Books
Basecamp's founding team developed a following from being very opinionated about operations. They've released several books that raise brand awareness while sharing lessons. (Basecamp Books)

3. Podcast Interviews
The founders have been on tons of podcasts to share their opinions and stories. (Jason Fried Interviews | DHH Interviews)
4. Signal v. Noise Blog
Signal V. Noise is a popular blog run by the Basecamp team. Posts often serve as a prelude for what to expect from their books. (Basecamp Blog)
5. Guides and Manuals
Basecamp provides scalable support with guides and manuals. (Basecamp Docs)
6. Conferences
The Basecamp founders are more visible than the average SaaS founder. They've developed a captive audience by sharing their journey and opinions. (Talk)
7. 15 Minute Onboarding
Project management software can be complex. Basecamp developed a series of of videos to onboard users in a scalable way. (Basecamp Learn)
8. Newsletter
Basecamp builds a list by collecting emails of people who want to stay updated on news and announcements. (Basecamp Newsletter)
9. REWORK Podcast
The REWORK podcast shares a name with their book. It mirrors their philosophies about how companies should be run. (REWORK Podcast)

10. The Distance Podcast
Basecamp was podcasting before it incredibly popular. The Distance shared stories of people running businesses. They aimed to create content that would be interesting to their target audience. The discontinued podcast now links to REWORK. (The Distance Podcast)
11. Sharing Journey
Basecamp has shared more of their journey than most SaaS companies. The company started in 1999 as a web development agency. In 2005 they pivoted to become a SaaS company with several products. Around 2014 they retired several products to focus on their flagship tool, Basecamp. (Basecamp Story)
12. Twitter
Basecamp has a large following on Twitter. They mainly use the platform to keep followers up to date on support issues, announce podcast episodes and promote books. (Basecamp Twitter)
Flywheel Marketing
13. Campfire
Campfire is a discontinued chat tool for businesses. (Campfire)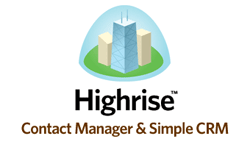 14. Highrise
Highrise is a discontinued CRM system. (Highrise)
15. Backpack
Backpack helped teams get and stay organized. Basecamp discontinued the product in their efforts to refocus. Some features like document organization have been folded the Basecamp product. (Backpack)
16. Basecamp
Basecamp discontinued several tools to focus on their flagship product. The company's old domain covers the decision to focus on one product and change the company name. (Basecamp Transition)
17. Sortfolio
Sortfolio helps people find designers for their projects. The Basecamp team understood the pain from their days as a web development agency.
The tool took away from their primary focus although it was generating about $200,000 a year in profit. Basecamp sold Sortfolio in 2012. (Sortfolio Story | Sortfolio)
18. Multiple Platforms
Basecamp reduces friction for users by being available on multiple platforms. (Basecamp Platforms)
19. Third-Party Integrations
It's important for project management tools to be able to communicate with other tools. Basecamp offers tons of integration options. (Basecamp Integrations)
20. API
Basecamp is known for rejecting user requests that add to the complexity of products. The team offers an API to allow customers to build their own tools. (Basecamp API)
Discount Marketing
21. 30-Day Trial
Basecamp offers no perpetually free plans. They force users to make a decision after the trial is up. SaaS companies tend to get less trials but more revenue by not offering perpetually free plans. (Basecamp Trial)

22. Comparison Pricing
Basecamp has a unique way of framing prices. They compare their price to others by focusing on value and comparable tools. (Basecamp Pricing)
Micro Marketing
23. Direct Support
Basecamp has an open contact form on their support page. They also display the current expected response time. (Basecamp Support)
Social Proof Marketing
24. New Sign Up Count
Displaying new user counts is an excellent example of social proof that's rarely used. Ahrefs is the only other company that I've seen employ this technique. (Page)
25. Customers Page
The Basecamp customers page focuses on showing 1000 customer testimonials instead of videos or pictures. (Basecamp Customers)
26. Total Sign Up Count
Basecamp signals their durability as a company and growth by showing user growth over the years. (Page)

27. Testimonials
Basecamp mixed testimonials with statistics to trigger strong social proof. (Page)
Thanks for reading!
Which company you would like to see next?
Let me know — @DruRly.