Company: Mailchimp
Founded: 2001
Founders: Ben Chestnut, Dan Kurzius
Description: Email marketing platform
---
This playbook focuses on marketing strategies and tactics used by Mailchimp.

The marketing playbook series is for founders who want to:

1. learn from real-life examples
2. discover which growth strategies fit which businesses and industries
3. find the 20% of strategies that return 80% of results
Content Marketing
1. Twitter
Mailchimp uses Twitter to share interesting content from Mailchimp Presents. They also retweet customer praise. (Twitter)
2. The Jump Podcast
The Jump Podcast consists of musician interviews about songs that changed everything for them. (The Jump Podcast)
3. Mailchimp Presents
Mailchimp Presents operates as a content production studio. They release video series, podcasts and video snippets. The content is more about entertainment and less about promotion. The aim is to create interesting content that appeals to their target audience.
This high-quality content approach is reminiscent of Shopify.
4. Templates
Mailchimp templates are platform specific assets that help business owners create marketing campaigns faster. Glide, Notion, Webflow, Shopify and Airtable also help users by providing templates. (Mailchimp Templates)
5. Email Design Guide
Mailchimp attracts users who are interested in email marketing by providing an email design guide. (Email Design Guide)
6. Marketing Tips
Mailchimp provides marketing tips beyond the world of email marketing. This strategy is great for attracting prospects and introducing them to the benefits of email marketing and Mailchimp. Marketing Tips along with other written collections are provided in lieu of a traditional blog. (Marketing Tips)
Freemium Marketing
7. Free Plan
Mailchimp saw revenue increase when they introduced a free plan in 2009. The free plan works as a lead magnet that begins a sales process to convert these leads into paying customers. (Page)

Viral Feature Marketing
8. Mailchimp Branding
The Mailchimp footer creates a viral effect. Mailchimp is able to reach everyone on their customers' email lists by adding their linked logo to the bottom of emails. Branding can be removed on premium plans. (Page)

Affiliate Marketing
9. MonkeyRewards
Paid users are incentivized to keep the Mailchimp footer in emails with MonkeyRewards. Mailchimp provides users with account credit for each user that clicks on the link in their email and signs up.
Mailchimp is able to provide $30 in value without incurring $30 in expenses. Account credit has zero marginal cost to Mailchimp even though it represents real value to users. Notion also provides account credit for referrals instead of money. (MonkeyRewards)
Lock-In Marketing
10. Switching Costs
Mailchimp creates friction for users who are considering another platform by housing data. Some email marketing companies combat this by offering free migrations for high-value customers. (Page)
Micro Marketing
11. Events
Mailchimp meetups bring the Mailchimp community together for "educational networking." These are often hosted in partnership with marketing agencies. (Mailchimp Events)
12. Feedback
Mailchimp gives visitors the opportunity to provide feedback. There's a "Feedback" button on the right side of every page. (Page)
Niche Marketing
13. Mailchimp for Agencies
Mailchimp creates a custom experience for marketing agencies who are often handling multiple business accounts. They even have a newsletter specifically targeted at agencies. (Mailchimp for Agencies)
Partnership Marketing
14. Partner Program
The Mailchimp Partner Program is aimed at agencies and Mailchimp experts. The program allows these stakeholders to get sneak peeks into new features and access exclusive events.
The partner program allows Mailchimp to stay connected to those are enriching the ecosystem without getting too involved in less scalable businesses. (Mailchimp Partner Program)
Social Proof Marketing
15. Testimonials
Mailchimp uses the typical strategy of including testimonials on their landing page. The company enhances social proof by providing pictures of customers. (Page)
16. Trusted By
Mailchimp also follows the B2B SaaS pattern of providing well-known brand logos on their landing page. (Page)
17. Customer Success Stories
Mailchimp provides tons of customer success stories which include high-quality videos and pictures. (Success Stories)
Remarkable Marketing
18. Fake Brand Campaign
The Mailchimp 'fake brand' campaign consisted of creating lots of fake brands that rhymed with Mailchimp. The campaign went viral with lots of traffic going to the fake brand websites which linked back to Mailchimp. (Video)
19. Mailkimp
Lots of talk also surrounded a Mailchimp spot on the Serial podcast. The ad created a long-running joke that stemmed from a kid pronouncing the company's name as "MailKimp".
Someone even sampled to ad to create a song. (WTF is Mailkimp?)
Paid Marketing
20. Google
Like most B2B SaaS companies, Mailchimp uses Google to target certain keywords. (Page)
21. Facebook
Mailchimp focuses on moving trial users through the sales funnel with micro targeting on Facebook. (Page)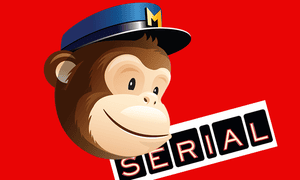 22. Podcasts
Mailchimp had huge success promoting on podcasts like Serial. Serial became extremely popular and the ad spot went viral when a Norwegian girl pronounced the company's name as "Mailkimp". (Mailchimp Promo | Analysis)
Flywheel Marketing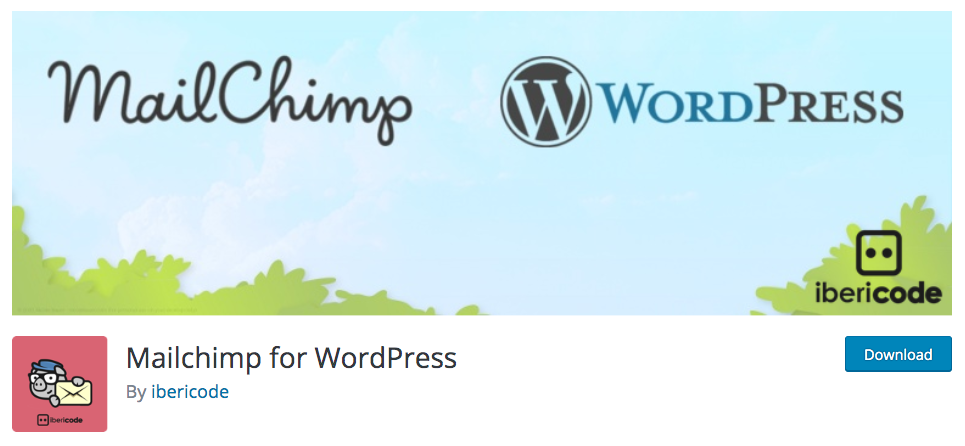 23. WordPress Plugin
WordPress and Mailchimp are a natural combination. The plugin removes friction from manually integrating blogs with the email platform. Mailchimp for WordPress has over one million active installations. (Mailchimp for WordPress)
24. Content Studio
Mailchimp's content studio makes it easy for creators to manage content for marketing campaigns. (Content Studio)
25. Mobile
Mailchimp reduces friction by offering apps for mobile platforms. (Mailchimp Mobile)
26. Websites & Domains
Mailchimp is moving into website hosting and domain registration. This is reminiscent of how Shopify and Webflow are expanding to nearby industries. These previously indirect competitors will soon have several overlapping products. (Page)
27. API
Mailchimp offers an API that allows customers to leverage the technology and data to build custom tools. (Mailchimp API)
28. Mailchimp Experts
Mailchimp experts contribute to the overall health of the ecosystem. The experts directory allows Mailchimp to keep their hand in quality without taking on less scalable business models. This is reminiscent of how AWS, Shopify and Webflow offer a directory for platform experts. (Mailchimp Experts)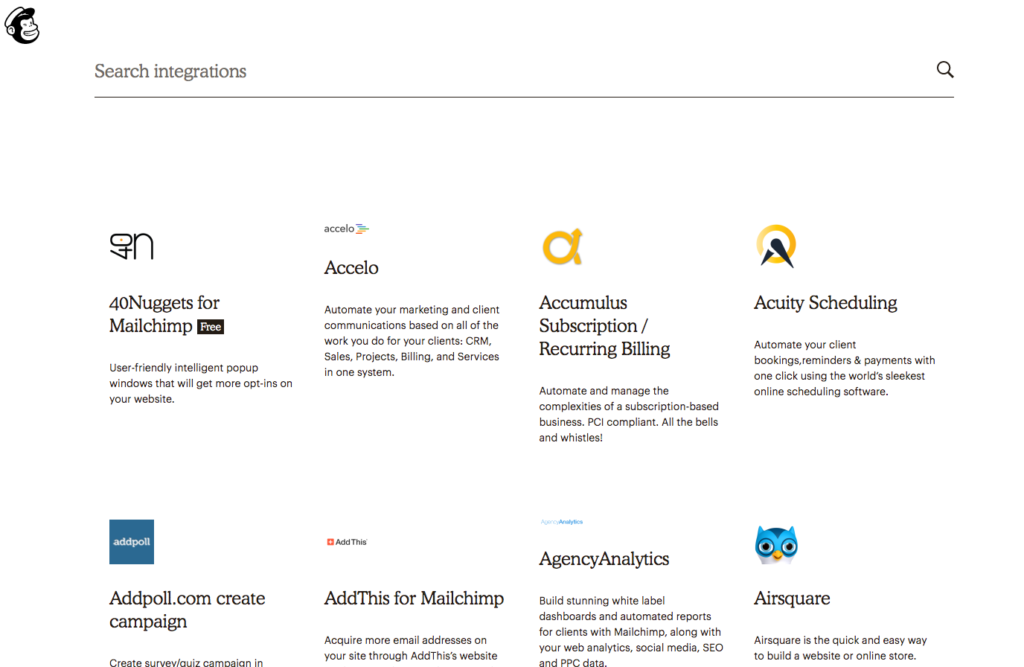 29. Integration Directory
Third-party integrations increase the flexibility of the email platform. Mailchimp encourages developers to build integrations by providing distribution through it's directory. (Mailchimp Integrations)
30. Analytics
Mailchimp helps businesses promote more efficiently by providing customer insights and segmentation. (Mailchimp Insights)
31. TinyLetter
TinyLetter helps individuals distribute personal newsletters. The tool exists in the same space as Substack and Pico. (TinyLetter)
32. Email Campaigns
Email campaigns are the bread and butter of Mailchimp. The company has evolved to offer more services around campaigns such as landing pages, A/B testing and automation sequences. (Mailchimp Campaigns)
33. Facebook & Instagram Ad Campaigns
Mailchimp decided to expand into Facebook and Instagram ads based on customer feedback. They now offer a tool to launch ads from the Mailchimp platform. This seems to mesh well with Mailchimp tools such as the content studio. (Facebook and Instagram Ads)
34. CRM
Mailchimp helps businesses collect leads. It was a natural progression to move into helping businesses manage those relationships.
They provide customer profiles, demographic information and audience filters. (Mailchimp Audience)
Thanks for reading!
Which company you would like to see next?
Let me know — @DruRly.