Company: Uber
Founded: 2009
Founders: Travis Kalanick and Garrett Camp
Description: Peer-to-peer transportation company.
---
This playbook focuses on marketing strategies and tactics used by Uber.

The marketing playbook series is for founders who want to:

1. learn from real-life examples
2. discover which growth strategies fit which businesses and industries
3. find the 20% of strategies that return 80% of results
Freemium Marketing
1. First Ride Free Uber
Uber routinely offer free rides to introduce new users to the service in hopes that they would become regular customers. (Page)
2. Delivery Free
Uber Eats offered free delivery to introduce users to the service. (Page)
3. JUMP – Free Rides
Uber-owned JUMP offered free rides on scooters and bikes to reduce the friction involved with trying something new. (Post)
Niche Marketing
4. Starting in San Francisco
Uber launched and focused on the San Francisco area before expanding to other cities. This allowed them to nail product-market fit and gave them access to a community of early adopters. (Wiki)
5. Uber for Business
Uber designed a specialized experience for businesses that allow companies to offer rides to employees and clients. (Page)
6. uberFRESH becomes Uber Eats
Uber Eats began as uberFRESH and focused solely on Santa Monica, CA. This allowed the team to seek product-market fit within a single city before expanding to others. (Post)
7. Uber Designed for Patients
Uber designed a unique experience for medical patients. It's the same logistics platform with features specific to the medical industry. (Page)
Affiliate Marketing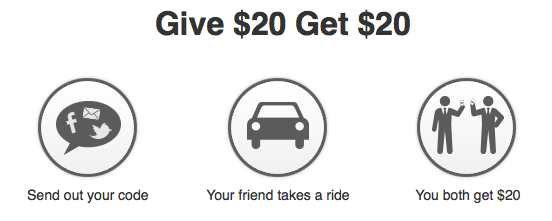 8. Rider Referral Program
Uber created a potential sales team of millions by giving individual promotion codes and offering rewards for referring riders. A similar program was created for Uber Eats. (Post)
9. Driver Referral Program
A much more lucrative affiliate program was created for referring drivers. (Article)
Flywheel Marketing
10. JUMP
Uber moved into bike and scooter rentals with the acquisition of JUMP. They modified their app and leveraged their huge user base to compete against players such as Bird and Lime. (Article)
11. Uber Eats
Uber leveraged it's experience from building a dual-sided marketplace to build a three-sided marketplace with Uber Eats. (Page)
12. Uber Freight
Uber created a similar app for moving freight instead of people. (Page)
13. Uber Cash
Uber moved into financial services with Uber Cash. Users receive a small discount for using Uber Cash instead of another form of payment. (Page)
14. Uber Rush
Flywheel marketing doesn't come without failures. Uber Rush was a short-range package delivery service. It was shutdown but demonstrates Uber's intent to move from being an innovation company to a distribution company. (Article)
15. Advanced Technologies Center
Uber is experimenting with self-driving cars. (Page)
16. Uber Health
Uber is open to specific applications for it's platform such as Uber Health. (Post)
17. Credit Cards
When a company has a huge user base, they seem to move into financial services in the form of a credit card. Uber is no different and they offer rewards specific to their service. (Page)
18. Uber Air
Similar to self-driving cars, Uber Air is a forward-looking effort that explores three-dimensional travel. (Video)
Status Marketing
19. #Riderzero
The #Riderzero campaign signals the launch of Uber in a new city. Influencers are tapped to be the first to try the service. (Post)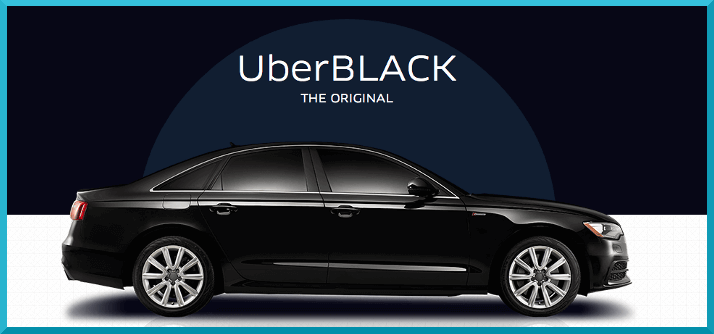 20. Uber Types
Uber started as a black car service. They still show elements of their origins by offering different levels of service such as Uber Black, Uber Comfort, Uber X, Uber Pool and more. (Post | Article)
21. Customer Tiers
Uber also has a rewards program for riders. Different levels come with different benefits. (Page)
Urgency Marketing
22. Expiring Promotions
Uber and Uber Eats has a constant string of expiring promotion codes. This creates a sense of urgency among users. (Page)
Poacher Marketing
23. Taking Lyft Drivers
Uber aimed for Lyft drivers with it's affiliate program. In doing so, Uber went after people that were already comfortable with ride-sharing and likely to convert. (Article)
Discount Marketing
24. Uber Discounts
Uber and Lyft offer a perpetual stream of deals to gain adoption and usage. (Page)
25. Uber Eats Discounts
Uber Eats also boosts usage and adoption with discounts. (Discussion)
26. JUMP Discounts
JUMP followed suit with it's parent company by offering discounts to spur usage. (Post)
Ease Marketing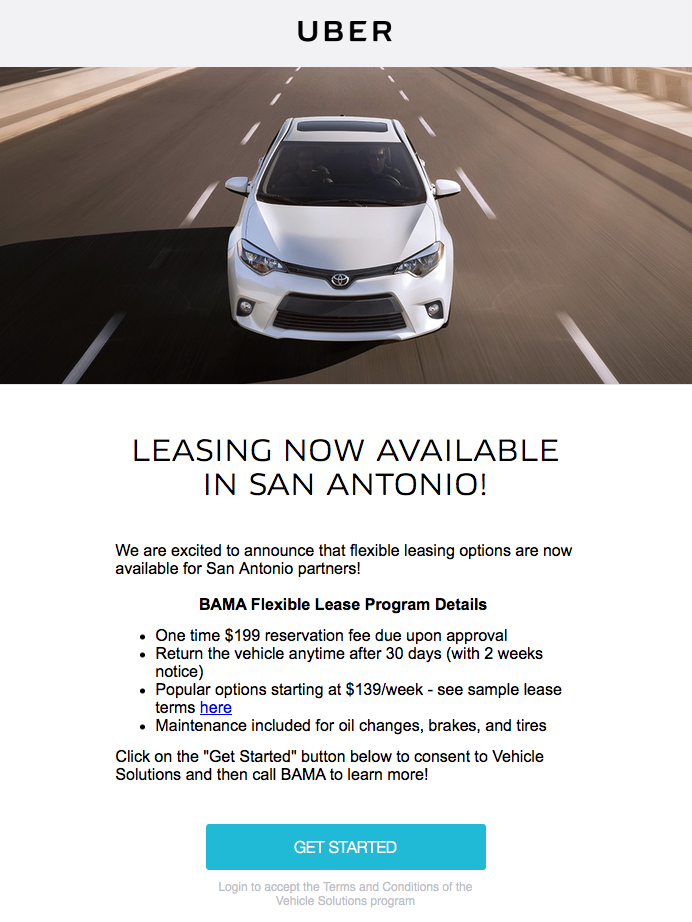 27. Uber Vehicle Solutions
To ease the adoption curve, Uber got into the business of making sure that vehicles were available for people who wanted to drive. (Page)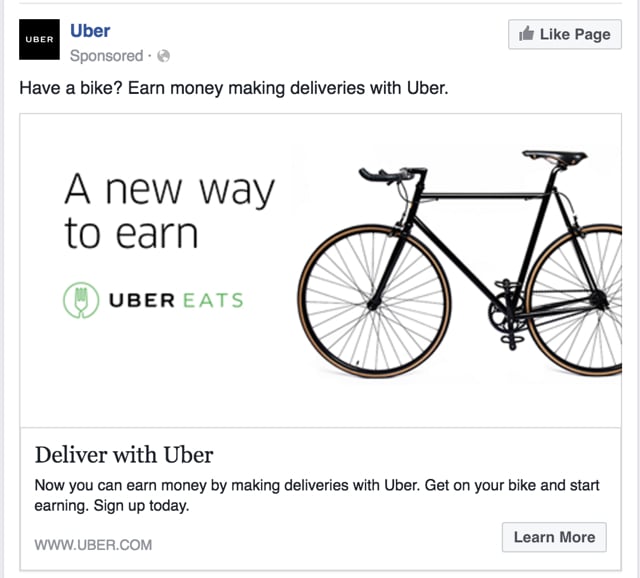 28. Uber Eats Bikes
Uber Eats lowered the barrier of entry for deliverers by allowing bike delivery. Getting access to a bike requires less capital than a car or scooter. (Page)
Influencer Marketing
29. Russell Wilson
Uber tapped Russell Wilson to star in it's Super Bowl commercial. (Article)
30. LeBron James
Uber worked with LeBron James and Kevin Durant in it's Rolling With the Champion video series. (Video)
31. Andrea Denver
Uber worked with Andrea Denver to promote Uber on his Instagram page. (Page)
32. Charlotte Bridgeman
Uber worked with Charlotte Bridgeman to promote Uber on her Instagram page. (Page)
Content Marketing
33. Youtube
Uber's YouTube channel has over 300k subscribers and over 100 million views. (Page)
34. Blogs
Uber maintains a blog for each serviced city and an engineering blog. (Post)
Presence Marketing
35. Riding with Friends
Uber has a natural viral component that stems from users introducing potential users to the service by riding together. I've introduced several friends and family members to Uber and Lyft by simply ordering one for us. (Post)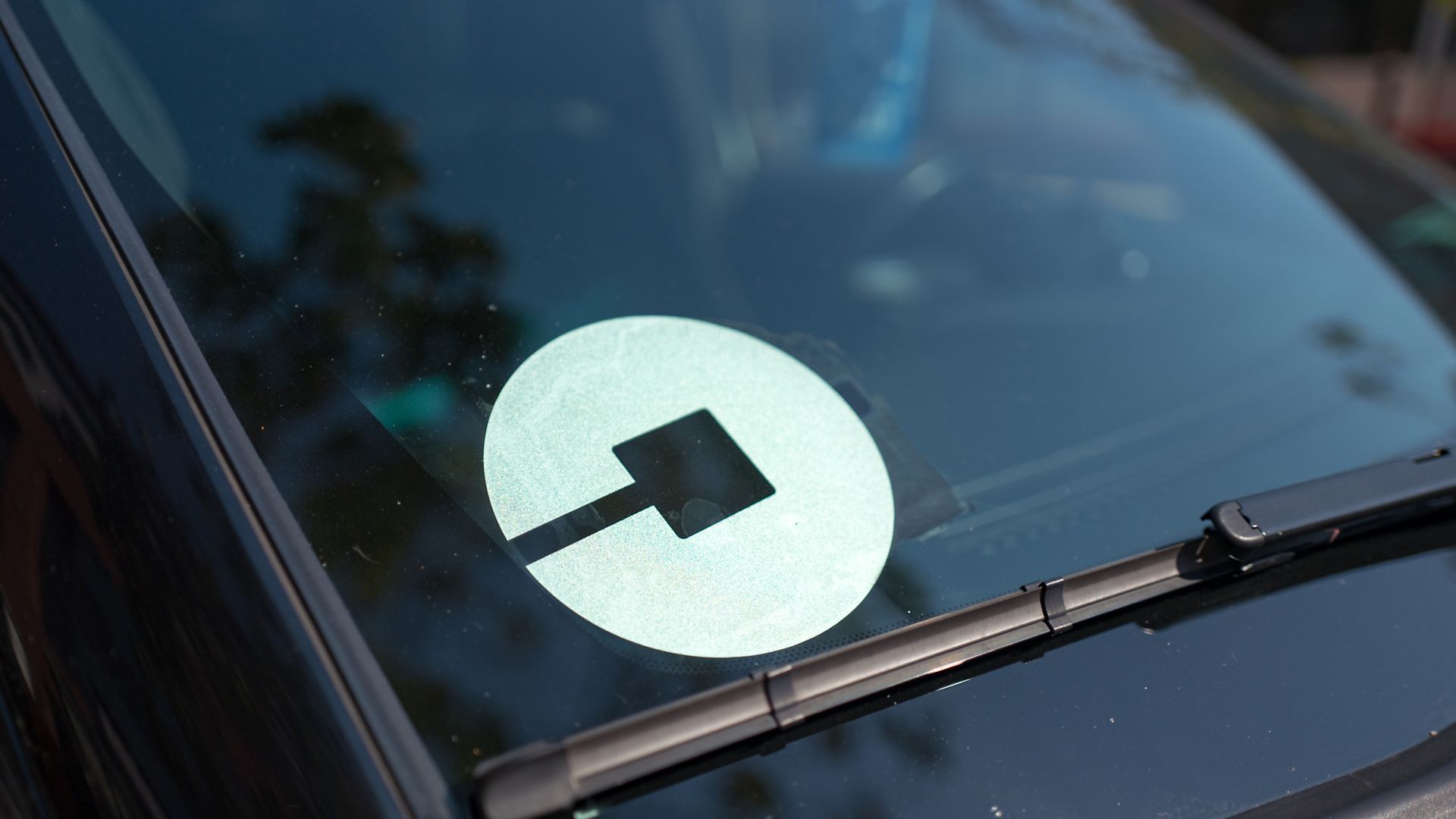 36. Uber Decals
Aside from allowing riders to identify cars, Uber decals also provide brand awareness. (Discussion)
37. Uber Eats Bike Bags
Free advertising with the bike bags on Uber Eats. (Page)
38. Uber Gift Cards
Uber gift cards provide brand awareness and a physical presence in retail stores. (Page)
Feel Good Marketing
39. Uber Safe – Breathalyzer
Uber's breathalyzer kiosk provided a reminder to drive safe and to try Uber. (Article)
40. Moving Forward Campaign
Uber kicked off the Moving Forward campaign following issues related to workplace harassment, spy programs and discrimination. (Video)
Gamified Marketing
41. Driver Quests
Uber offers milestones for drivers to reach in order to earn bonuses. (Article)
42. Uber Rewards Program
Uber incentivizes riders to use the service more with a rewards program that includes several tiers with varying benefits. (Page)
43. Uber Credit Card Rewards
Like other credit cards, Uber rewards certain purchase types along with bonuses such as earning $100 after spending $500. (Article)
44. Uber Driver Badges
Uber pushed further into gamification with driver badges. (Article)
Social Proof Marketing
45. Two-Way Rating System
Used to make it more acceptable. Even getting extra marketing mileage with people sharing their Uber rating on their Tinder profile. (Page | Video)
Value Marketing
46. Uber Driver Perks
Uber offers driver perks such as vehicle maintenance, phone discounts and health insurance discounts. This raises Uber's value proposition to drivers. (Page)
47. Uber Freight Driver Perks
Uber Freight uses a similar perk scheme to reward freight drivers. (Page)
48. Uber Cost Versus Cabs
Uber offers a clear value proposition for riders. They generally cost less than cabs Ride-sharing services reduced money and time costs so much that the market was reshaped. Early investors didn't imagine that he size of the total addressable market would rise as the price dropped. (Post)
Remarkable Marketing
49. Red JUMP Bikes
The bright-red design of JUMP bikes and scooters are designed to draw attention.(Article)
50. Uber Festival Rides
Uber often provides free rides during festivals. This tends to trigger word of mouth marketing, first-time riders and goodwill. They provided transportation to 20 music festivals in the summer of 2015. (Post)
51. Uber Delivers Kittens
Uber generated lots of press when it delivered kittens. Similar marketing stunts have been done with ice cream trucks. (Post)
52. Quiet Mode
Uber generated lots of press when they announced the ability to silence drivers. (Post)
53. Unhappy Hour – Super Bowl
Uber paired it's Super Bowl commercial with Unhappy Hour, which offered free rides to riders who's team lost the Super Bowl. (Article)
54. Mariachi band, margaritas, & piñatas
Another marketing stunt involved being able to send for a Mariachi band on Cinco De Mayo. (Article)
55. Free Rides at SXSW 2013
Uber offered free rides alongside announcements at SXSW 2013. (Article | Post)
56. Uber Lemonade Stand
Another marketing stunt involved setting up a lemonade stand in response to a TechCrunch article. (Article)
57. UberCADE – Motorcades for President's Day
On President's Day, Uber pulled a #UBERCADE marketing stunt that garnered lots of press. (Post)
58. Roses for Valentine's Day
Uber delivered roses on Valentine's Day. (Post)
Paid Marketing
59. Search Engine Ads
Uber has search engine ads. (Article)
60. Facebook Sponsored Posts
Uber has sponsored posts on Facebook. (Article)
61. Craigslist Ads
Uber posts ads for drivers on Craigslist. Each Craigslist post costs between $15 and $75. (Post)
62. Uber Commercials
Uber uses commercials to promote. They even advertised during one of the most costly events, Super Bowl. (Video | Article)
Sunk-Cost Marketing
63. Uber Eats Pass
The Uber Eats Pass functions much like Amazon Prime, in how the sunk-cost of the pass changes buyer behavior. (Article)
64. Uber Rides Pass
The sunk-cost effect also applies to Uber's Ride Pass. Users find themselves using the service more to justify the expense. (Page)
Guarantee Marketing
65. Insurance for Riders and Drivers
Uber preempts objections by providing insurance to riders and drivers. (Page)
66. Upfront Pricing for Riders
Upfront pricing makes the purchase decision much easier by removing uncertainty. (Page)
67. Guaranteed Earnings for Drivers
Guaranteed earnings for drivers makes them more likely to drive for the ride-sharing service. (Article)
Permission Marketing
68. Push Notifications
Uber sends push notifications to alert users of promotions as well as when their Uber has arrived. (Post)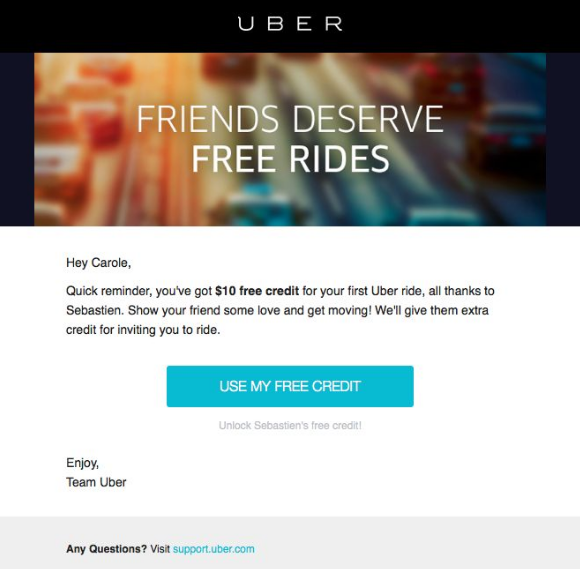 69. Emails
Uber sends emails to alert users of promotions, referral program updates and to urge users to take political action to protect ride-sharing services. (Article)
Personalized Marketing
70. Uber Eats Recommendations
Uber Eats recommends dishes and restaurants based on purchase history. (Post)
Partnership Marketing
71. Capital One
Uber partnered with Capital One to offer rewards for using Capital One credit cards with Uber. (Post)
72. Starwood Hotels
Uber partnered with Starwood to offer Starpoints as rewards for using Uber. (Article)
73. McDonald's + Uber Eats
Uber Eats partnered with McDonald's to provide food delivery for over 10,000 locations. (Article)
74. Zomato
Uber partnered with Zomato to allow users to order an Uber from the Zomato app.(Page)
75. Volvo
Uber partnered with Volvo to develop self-driving technology. (Article)
76. BMW
Uber partnered with BMW to promote the BMW 7 Series. (Post)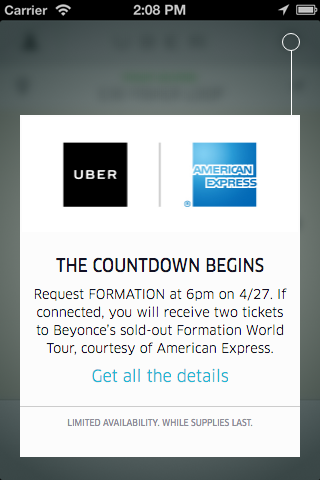 77. American Express
Uber partnered with American Express to provide tickets to Beyonce's sold out tour. (Article)
78. Facebook Messenger
Uber partnered with Facebook to allow users to order an Uber from the chat app. (Post)
Thanks for reading!
Which company you would like to see next?
Let me know — @DruRly.