Company: Notion
Founded: 2014
Founders: Ivan Zhao, Simon Last, Jessica Lam
Description: Note-taking and collaboration tool
---
This playbook focuses on marketing strategies and tactics used by Notion.

The marketing playbook series is for founders who want to:

1. learn from real-life examples
2. discover which growth strategies fit which businesses and industries
3. find the 20% of strategies that return 80% of results
Freemium Marketing
1. Free Plan
Free plans lower friction in user adoption. The freemium model is common in SaaS. These plans also act as lead magnets. Companies can continue to test offers on free users. (Pricing)
Flywheel Marketing
2. Multiple Platforms
It's important for Notion to be available on multiple platforms as a collaboration tool. This allows users to work together from mobile and desktop environments. Each platform also pulls in a new type of user. Notion became a viable note-taking alternative for Android users when they released an Android app. (Product)
3. Web Clipper
The web clipper helped Notion reach feature parity with Evernote. Perhaps this was an common objection to switching over before the browser extension existed. (Web Clipper)
4. Notion Blocks
Blocks help differentiate Notion from other note-taking tools. Versatility increases as new block types are released. Notion pulls in new users with new needs each time they create a new block type. (Product)
Incentive Marketing
5. Action Credits
Notion offers credits for different user actions. This unique practice borders on gamification. (Credits)
User quests include:
Referrals
Migrating from Evernote
Logging in from a web browser
Using the web clipper for chrome
Using the web clipper for mobile
Affiliate Marketing
6. Referrals
Notion offers a dual-reward system for referrals. They reward users with service credits instead of money. (Referrals)
Content Marketing
7. Template Gallery
Templates make it easier for users to imagine themselves using Notion. Templates also allow users to experience benefits sooner by bootstrapping off of other projects.
The template gallery is also an example of user-generated content. Users can submit their templates to the gallery. (Template Gallery)
8. Twitter
Notion's content coalesces on Twitter. It serves as a base for product updates, press, user praise and more. Notion has more than 40k followers. (Twitter)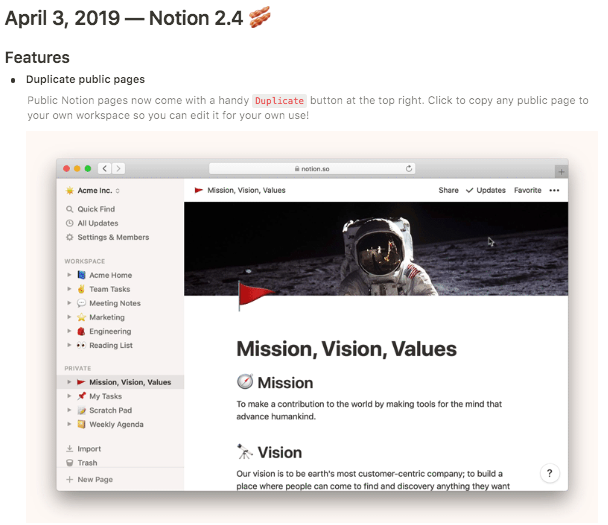 9. What's New?
Notion's product timeline tells a story. It takes Notion users on a journey of the past and keeps them excited about upcoming features. (Product Timeline)
10. Tools & Craft
The Tools & Craft series shares interesting stories without directly pushing Notion. The content team deftly repurposes the same content for video and podcasting formats.
The series showcases a bit of Ivan Zhao's interests as a designer. This is similar to how Patrick Collison, CEO of Stripe, manifests his love of books with Stripe Press. (Tools & Craft)
11. Notion Forums
Notion uses several 3rd-party platforms for user support. They have support channels on Reddit, Facebook, Discord and Slack. (Notion Community)
12. Events
Notion moved into the physical word with events. These meetups and workshops are also a form of micro marketing. Notion has an ambassador program for individuals who want to help with grass roots efforts.
This practice is similar to Webflow events and designer evangelists. (Notion Community)
13. Documentation
Notion produces lots of documentation. This is great for SEO and helping prospective users decide whether or not Notion is a good fit for them. (Documentation)
14. Interviews
Notion CEO, Ivan Zhao, often shares the story of Notion while raising brand awareness. He's been featured on Inside Design, Designer News and Figma.
Poacher Marketing
15. Targeting Evernote ?
Being an Evernote user makes you a great target customer for Notion. The company dedicates an entire page to informing users why Notion is better than Evernote.
Webflow also dedicates pages to explaining why they're a better option than WordPress and Shopify. Uber has also targeted Lyft drivers in marketing campaigns. (Notion-Evernote Comparison)
Viral Feature Marketing
16. Sharing
Collaboration tools lend themselves to virality. Notion takes full advantage of this by making it easy to share documents. They also cater to enterprise environments where usage is likely to spread throughout organizations. (Sharing)
Social Proof Marketing
17. Testimonials
Notion uses tweets for testimonials. Ahrefs does the same. This is often used by SaaS companies for social proof. (Product)
Thanks for reading!
Which company you would like to see next?
Let me know — @DruRly.